Tackle for Revenue Leaders
Forge a New Path
in B2B Selling
Data-Driven Buyer Insights
Let Tackle assess and score your current pipeline so your sellers can work and close the right deals with the right partners.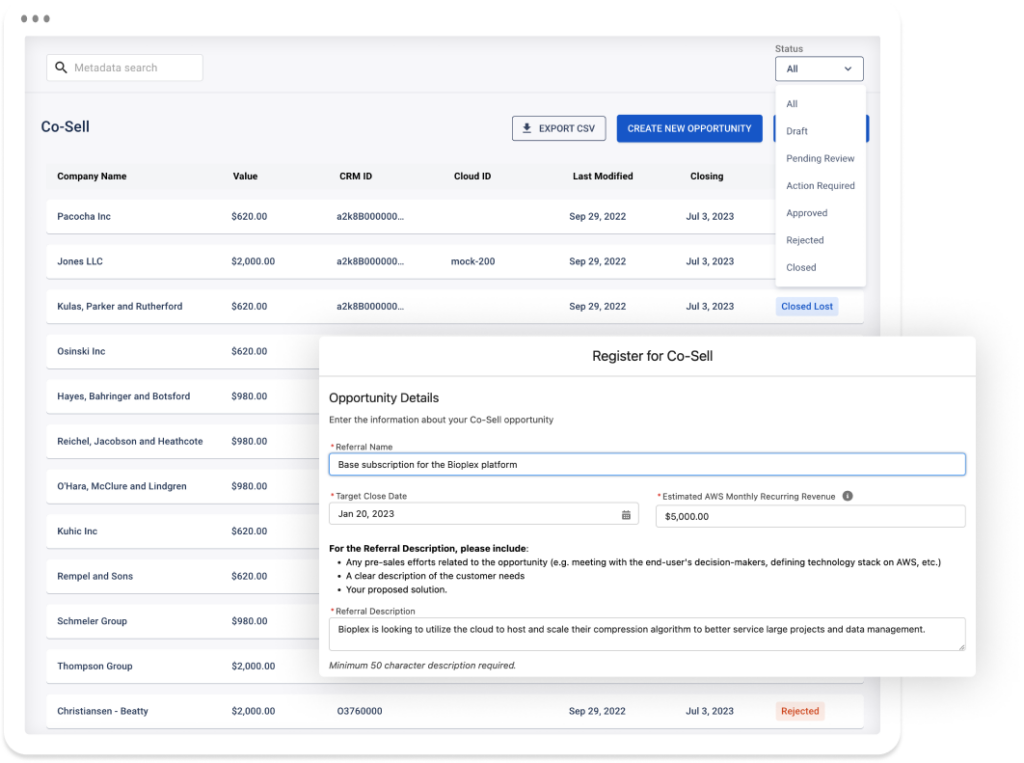 Co-sell leads to faster and larger transactions
Effective & Efficient Co-Selling
Generate partner-initated pipeline with your Cloud Partners at scale without disrupting your sellers' workflows or traditional channels.
Real-time Deal Tracking
Track private offers in real time so key stakeholders can monitor progress and ultimately help your team sell faster—all in a way that's aligned to your current business.
Comprehensive Reporting
Tackle's reporting capabilities give you a granular view of sales activity, deal status, and disbursements for more complete data transparency and visibility.
Our Customers ❤️ Us
Tackle gives us the ability to speed up our transaction model and get our product into our customers' hands faster. That faster time to value is a huge advantage to partnering with Tackle, we're able to shorten our sales process by at least 4 months and decrease deployment time by another 4 months giving our customers access to the platform 67% faster than we're able to without Tackle.
Stephen Campbell, VP of Technology, Incorta
Revenue Leaders ❤️ Tackle
Lacework Reaches New Heights with 5x Increase in New Customers
Lacework partnered with Tackle to 3x its Cloud Marketplace revenue and 5x net new customers in its first year.
Lacework Reaches New Heights with 5x Increase in New Customers
Read the Story
KEY OUTCOMES
3x increase in overall revenue growth
5x increase in net new customers
90+% trial conversion rate each quarter
Weka's AWS Marketplace Pipeline
While Weka has built its storage infrastructure solutions on Amazon Web Services (AWS) since day one, building its cloud go-to-market (GTM) strategy was new territory. As the company expanded its offerings, it looked for new ways to reach its growing customer base. Tapping into AWS Marketplace and working with Tackle to streamline the process proved to be a massive opportunity. In under one year, Weka grew its cloud pipeline deals from zero to 15 percent of the company's overall business opportunity.
KEY OUTCOMES
15% of revenue driven through Marketplace
20x increase in cloud pipeline
Roughly 1 week saved in financial reconciliation
Snyk Unlocks 3x Increase in Average Sale Price with Tackle
To get their solution quickly listed in the AWS Marketplace, Snyk partnered with Tackle to provide a zero-engineering approach to listing, integrating, and managing everything the Snyk team needs to sell successfully.
Snyk Unlocks 3x Increase in Average Sale Price with Tackle
Read the Story
KEY OUTCOMES
Closed more than 50 private offers on the Marketplace in one year
Average sales price is 300% higher compared to those outside Marketplace
Doubling the business quarter over quarter
See How Tackle Is Right For...
Drive cloud revenue with Tackle